After repeated delays and under the cover of darkness the Kansas House began debate last night on a bill that would strip teachers of due process, give tax breaks to supporters of private schools, and further decimate public education in Kansas. Hundereds of Kansas Teachers were present and overflowed the house gallery. The House kept delaying hoping the teachers would give up and go home. It didn't work.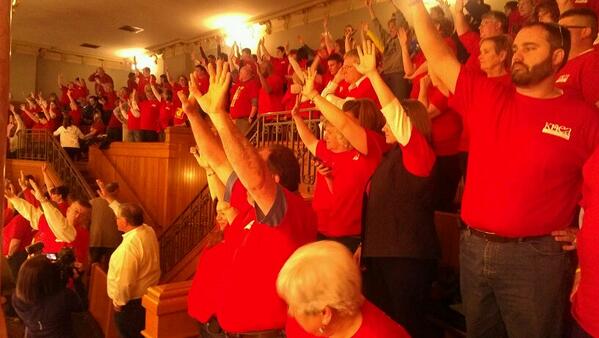 At 2:00 this morning Kansas Democrats stood strong and working with moderate republicans killed the bill. Or so we thought. The Kansas Senate is now poised to take up the bill and the Kansas house will follow suit later tonight. Teachers are streaming back into the capitol to begin another round of watching and supporting public education.
Word is that the bill will be debated as late as possible in the House and Senate in hope that teachers will leave so they can get some sleep before school tomorrow. They don't like having a bunch of eyes on them.
This is a bill with ALEC and AFP language placed in it verbatim from draft legislation and talking points. A full on conservative attack on education and teachers.
So far House leadership has flipped at least 9 votes overnight with threats of primary challenges and even though senators are not up for election this year, they are getting primary threats as well.
{ 1 comment }